Sarah's new play MOAB will be produced by Forward Flux Productions as part of their Three New American Play Festival in October of 2019! MOAB is a piece of investigative theater addressing the war in Afghanistan, violence, and friendship. Sarah is currently interviewing active duty military and veterans for the project.
MouthRadio presents Landcape Mechanical, a new play by Sarah Loucks, directed by Ann Marie Dorr.
ABC Motors has it all! Red cars! Blue cars! Green cars! Except today the salesman is depressed and the mechanics face an engine they can't fix. As they try to survive another Saturday at ABC motors, the radio conjures far away landscapes and the employees dream of other places...any place...but here. Landscape Mechanical is a meditation on the art of mechanics and the vast landscape of America. Using sound, movement, and machines, this new play by Sarah Loucks investigates what it means to fix the vehicles that traverse America, but never go anywhere yourself. Landscape Mechanical is a collaboration between two mechanics, two actors, a disembodied voice, and some used cars. Buckle up!
This presentation of Landscape Mechanical is a development. Tickets are a $5-$20 on a sliding scale. Tickets on sale February 18th.
One weekend only! Saturday March 10th 6:00pm, Sunday March 11th 4:00pm & 6:00pm
Where: Gravel Lot 3600 Lyons Rd, Austin, TX 78702. Performance is outside. Parking in gravel lot and on street.
Tickets: Available at www.sarahloucks.space or 515-520-7632. On sale February 18th.
Cost: $5-$20, sliding scale.
This project is supported in part by the Cultural Arts Division of the City of Austin Economic Development Department.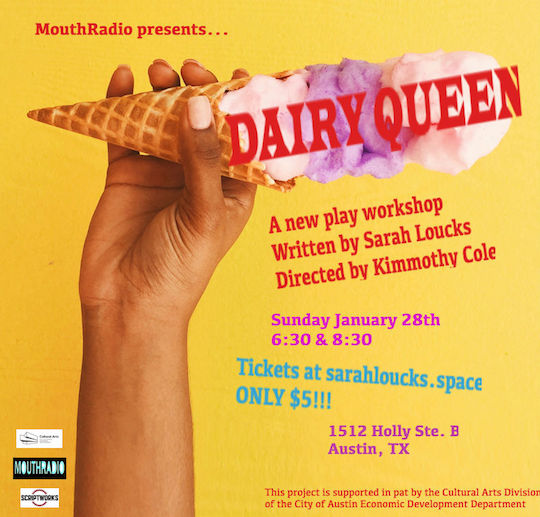 Karen and Lee are employees at Dairy Queen, where they're stuck working on the 4th of July. As fireworks explode in the street and the night drags on, the two teenagers begin plotting a future neither of them expected. Reigning over an empty DQ, a large quantity of ice cream, and some hidden vodka, two teenagers imagine adventure, salvation, and America beneath the flourescent lights of a Midwest Dairy Queen. Join us for this immersive workshop of a new one act play, where we'll give you ice cream in exchange for feedback.
This presentation of Dairy Queen is a development. Tickets are a $5-$20 on a sliding scale. $5 covers the materials we provide you during the show. Anything beyond that goes toward nurturing future projects by MouthRadio. 14 seats are available per performance. Tickets available at https://dairyqueen.bpt.me
One night only, two shows! January 28th 6:30 & 8:30pm
TEAM:
Director: Kimmothy Cole
Playwright: Sarah Loucks
PERFORMANCE ENSEMBLE: Abigail Lucas, Andrew Rodriguez, Mary Catherine, Norman Tran, Amanda Siepiola
When: One night only, two shows! January 28th 6:30 & 8:30pm
Where: Porfirio's Restaurant 1512 Holly St B, Austin, TX 78702. Free parking on street.
Tickets: Available at https://dairyqueen.bpt.me or 515-520-7632
Cost: $5-$20 sliding scale. 14 tickets available per performance.
This project is supported in part by the Cultural Arts Division of the City of Austin Economic Development Department.
A mermaid exhibition. A strange lake. Ice cream in multiple flavors. MouthRadio presents Crave Blue, a new play by Sarah Loucks, directed by Ann Marie Dorr. Part roadside attraction, part dark comedy, Crave Blue follows a group of West Texas women who dress up as mermaids to pay the bills. Conspiracy and desire collide when a man claims to see a real life mermaid in the lake. As tourists pollute the town, three minimum-wage mermaids must risk everything to uncover the secrets within the lake, and the secrets within each other.
Inspired by Balmorhea, TX, a town whose waterways are threatened by oil companies, Crave Blue is a surreal and gritty look at environmentalism and the feminine mystique in the heart of West TX. Crave Blue received developments at The VORTEX (2016) and Porterspace in NYC (2017)
Presented at MastroGeorge Theatre at Carol Hickey Acting Studio. 130 Pedernales Ste. 318b Austin, TX.
July 20th-August 5th at 8pm, with special double shows on July 29th and August 5th at 6pm and 9pm, 2017. General admission $15, priority seating $20. Tickets on sale HERE. Contact mouthradiotheatre@gmail.com for ticketing questions. For updates on MouthRadio and Crave Blue, like and follow us on Facebook.
Check out this poster designed by Zoe Darsee of Tabloid Publications!
February 9th 2016
The Anglers premiered at Frontera Fest on February 1st 2016!
We are remounting the show on February 25th at 8pm at ATM Gallery at Bolm Studios.
ONE NIGHT ONLY!
You can read more about The Anglers below.
07/15/16
A developmental reading of Sarah's new play, Crave Blue, will be featured in The VORTEX'S Second Saturday Reading Series on Saturday, April 9th at 2pm. Please join us! Your feedback is instrumental in the development of new work. Admission is free, along with the beer. The mermaids need you. Check out vortexrep.org for more info.
If you want to read a little more about Crave Blue, check out the blurb below.
The wrecked desert town of Jewel, Texas boasts a rare miracle—water. Presiding over the edge of this small town is a vast lake that, in the summer, hosts the famous West Texas Mermaid Exhibition. Advertising four live mermaids, the exhibition is a delight to tourists, but to the women who don latex fishtails and sparkly bras every day in 100 degree heat, it's just another job that barely pays the bills. Between performances, Fintasia, Wild Tuna, Treasure, and New Girl rant about bosses gone savage and fantasize about tropical islands. When a man claims to have encountered a real mermaid in the lake, the four performers find themselves objects of an aggressive media scandal. As the myth of the "Jewel, Texas Mermaid" grows, the women discover that their beloved lake is hiding a secret—one they must keep hidden or risk losing what they love the most. A dark, surreal drama that explores issues of gender, identity, and sacrifice in Southwest Texas, Crave Blue is at once an underwater fairytale and a drama of grit and endurance.